Terra Linda High School


Class Of 1980
In Memory
Jacqueline Santiago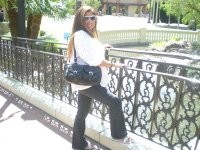 Jacqueline Santiago
May 9, 1962 ~ September 24, 2009
Jackie was born on May 9, 1962 in New York to Cathy and Cuco Santiago. She is survived by her son, Cameron, whom she loved more than her own life. She had a tremendous love for God. Her favorite Scriptures were Psalms 91 and 1 Corinthians 13: 4 - 8.
Jackie also loved music....pretty much all types, 70', 80's, 90's (old school) ;-) and current music as well. Michael Jackson was her all time favorite singer. Her favorite Song was "Coolin Water" by Lee Williams.

A long time resident of Novato, Jackie passed on September 24th, 2009, surrounded by her family. Jackie will be remembered for her sweet smile, infectious giggle and her amazing ability to make others laugh.
Special thanks to Jackie's beloved sister, DeeDee Rayford, for her help with this memory page.